Property Assessed Clean Energy (PACE)
SOLARGRAHAM is a PACE financing approved contractor for FRONTWAVE CREDIT UNION and ENERGY LOAN NETWORK.
The property assessed clean energy (PACE) model is an innovative system for financing energy efficiency and renewable energy improvements on private residential and business property. PACE programs exist for both residential properties (commonly referred to as Residential PACE or R-PACE) and commercial properties (commonly referred to as Commercial PACE or C-PACE).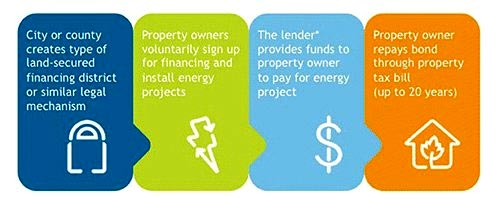 PACE programs allow a property owner to finance the up-front cost of energy or other eligible improvements on a property and then pay the costs back over time through a voluntary assessment.  The unique characteristic of PACE assessments is that the assessment is attached to the property rather than an individual.
Visit http://www.energy.gov for more information about PACE.
Help shed light on your solar dreams with a low-cost Frontwave Credit Union loan that puts energy efficient electricity within anyone's reach.
Benefits:
Low Rates
Borrow up to $75,000
Terms up to 20 Years (240 Months)
Fast and Easy to apply
To apply, visit this link.
Lenders enrolled in our network offer the lowest monthly payments available, with fixed rates and no pre-payment penalties. Programs are consumer-friendly, and a variety of term options are offered to best suit customers' needs.
Benefits:
Low Rates
Borrow up to $75,000
Terms up to 20 Years (240 Months)
Special Interest Rates Offered For FICO Scores Of 680+ and 720+
No Home Equity Required, $0 Down
Apply here.

Have questions about financing?
Please fill and send the form below or call us at (909) 749-0106 for more information.